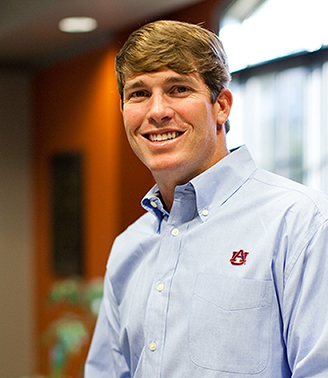 Dr. Brian Barrett, DMD
E-mail: [email protected]
Dr. Barrett grew up in Slapout, Alabama, and is an Auburn University alum. After graduating from Auburn in 2002, he then attended the University of Alabama-Birmingham (UAB) School of Dentistry and obtained his Doctorate of Dental Medicine (DMD) in 2006. Dr. Barrett returned to the Wetumpka area in 2006 and started working for The Tooth Zone dental office while he waited for his office to finish being built. Dr. Barrett opened his dental office in Wetumpka in January of 2007 and has been an active member of the community ever since. Dr. Barrett is a member of the Wetumpka Lions Club, Wetumpka Chamber of Commerce, and the National Federation of Independent Business(NFIB). He is also a proud sponsor of many local schools, non-profit organizations, and is a generous supporter of many organizations in our community.
Dr. Barrett is a member of the 2nd District Dental Society, the Alabama Dental Association (ALDA), the American Dental Association (ADA), the American Academy of Cosmetic Dentistry (AACD), and the Academy of General Dentistry (AGD).
Dr. Barrett married his high school sweetheart, Mandie Granger Barrett, and they have 3 children, Harlie, Baylie, and Granger. Mandie also attended Auburn University where she was an Auburn Cheerleader and received her degree in Nutrition & Food Science in 2003. She received her Master's degree from the University of Alabama-Birmingham in Exercise Physiology in 2005. Dr. Barrett and his family are members of Frazer UMC. In 2004, Dr. Barrett and Mandie won Couples Fear Factor, and they are both very active in sports and the outdoors.